Virus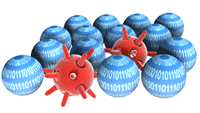 The Number of households that have had serious virus problems in 2010-2012  exceeds 15 million. In business, that number almost doubles.
There are some very effective ways to maintain these critters away. Having an active subscription to an Anti Virus program is crucial. But yet, there is another threat out there. Malware, adaware, spyware, all kinds of other "ware" malicious programs are constantly being created. We need to make sure that we are protected. 

Apple Computers, Linux, Google PC's with the Android OS are less vulnerable to Viruses. Windows 7 and Windows 8 has also tightened up there security making it harder for Viruses to penetrate.
Regardless, we all need protection from these pesky critters. We are here to help you protect your computers from viruses.